Is Online Betting Legal in India?
While the legality of betting online in India has never been stated explicitly, there is no clear legislation that expressly states it as being against the law. For example, gambling on horse races or playing on the leading cricket betting sites has been prevalent for a long, long time. Not only are they money-churners, but incredibly popular among the masses too.
The central government's official stance is that gambling on any game of chance is illegal throughout the country, and therefore, you won't find any local Indian betting sites. We have explained in brief the whole game-of-chance-vs-game-of-luck matter later on in this article.
A brief backstory
During the British Raj, the Public Gambling Act (1867) prohibited all forms of betting and gambling-related activities. This law even made it illegal to visit a facility offering gambling services.
But then went out the colonial powers, and many years later came the internet, causing many to wonder, "Is online betting legal in India?" That's because the archaic Gambling Act doesn't have anything to say about online betting or the legitimacy of it.
The government could have easily passed legislation banning online betting, but this has never happened. Does that mean online betting in India is legal and safe? That's precisely what we've answered next.
Is it safe to bet in India?
According to the apex court of the land, horse races and rummy are games of skill, and hence, aren't illegal. Whenever asked 'Is online betting legal in India?', most top lawyers maintain that the whole legitimacy surrounding the use of online betting sites is decidedly hazy, for the same reasons mentioned above.
From this, we can infer that online betting in India is outside of the ambit of the laws and regulations, and hence, isn't prohibited.
The caveat is that the central government has left it to the states to decide whether to legalise or outlaw online gambling within their borders. More importantly, we don't know of any incident of anybody involved in online betting being prosecuted.
Summary
Is online betting legal in India? While it isn't officially legal, rest assured that it isn't against the law, either. In all honesty, it is a grey area.
The central government has left it to the individual states to pass their own regulations regarding the matter.
What individual states say?
The Constitution of India, which came into force in 1950, specifies that states can formulate their own gambling rules and regulations. In fact, states can tax earnings from gambling and betting-related activities.
This move seeks to lend autonomy to states in deciding whether online gambling should be legalised or prohibited in their territories. This means that every state has its own laws – a few strict, some a lot less stringent.
In Karnataka and Maharashtra, games of skill are legal, whereas those that rely on chance are banned.
In Sikkim, the state government has been trying to regulate and legalise online gambling and betting, even accepting licensing requests from online operators too. Such a licence would cover a gamut of activities, including betting on cricket at the best cricket betting sites.
In a few other states like Tamil Nadu, there's no legislation either banning or legalising online betting. So, it isn't a criminal offence, and one won't be prosecuted for indulging in online gambling.
West Bengal has been increasingly becoming the hub of poker in India. It is categorically labelled a 'game of skill', as per the West Bengal Prize Competition and Gambling Act, 1957.
If you happen to be a fan of the popular card game, check out the best online poker sites in India for more information.
Bet safely at 1xBet!
Games of Skills vs Games of Luck
Is online betting legal in India?
To understand it better, we must first nail the differences between games of chance and those reliant on skill.
So, what is a game of skill?
It could be any game where the player can better the chances of success by learning more about it. According to this logic, online sports betting should undoubtedly be categorised as a 'game of skill'. The more you follow a particular sport/tournament/team/player, the greater your chances of calling that bet correctly.
And what is a game of chance?
Simple. It could be a range of games where you (or your skills) have no bearing on the final result. An example of this would be roulette. No matter how much you learn about online roulette and the best online roulette sites, you still cannot influence the outcome. Once the tiny ball goes into the roulette wheel, it can land anywhere. Our bet is as good as yours.
What about sports betting?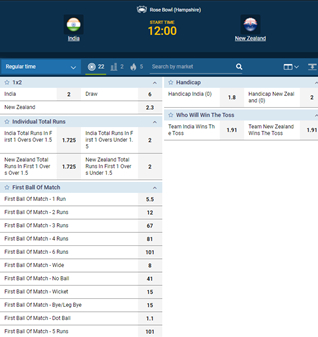 (Source: 1xbet)
Let's take the following scenario as an example.
India is taking on New Zealand in the ICC World Test Championship Final. You know the two teams' H2H records and have dissected the players' form, pitch report, weather conditions, team news, and every other nugget of information that typically go into making the best cricket prediction in the world.
Therefore, your chances of calling the match outcome correctly will certainly be much more than somebody with no idea of how to bet on cricket. Therefore, a certain amount of skill is involved here, a skill that you've honed for years by analysing cricket and watching several top cricket tournaments happening worldwide.
On a similar note, think about the 2008 Wimbledon final. Back then, Rafael Nadal was gunning for his first Championship, while the then reigning (and five-time) champion Roger Federer was looking to extend his glorious run at the All England Lawn Tennis and Croquet Club.
Now, would there have been any chance for the tennis newbie to predict that Nadal would go on to upset the apple cart and create history by defeating the Swiss maestro and winning his first Wimbledon title? Of course not. One would have to be a keen follower of this beautiful sport to even think about Wimbledon betting, let alone acing it.
However, despite such overwhelming proof of it involving a skill-based approach, whether sports betting is legal or not hasn't been categorically stated anywhere.
The same skills and learning come into play while wagering on any other sport — be it field hockey betting or kabaddi betting, for that matter.
What About Fantasy Sports?
(Source: Dream 11)
App-based fantasy sports are perfectly legal. These typically consist of squad selectors or predictors. With the former, you bet on the full-time result or the margin of victory. You get points if your bet wins. Simple.
But squad selectors are a little more elaborate. Here, you build an entire team for yourself – comprising players from the two teams that will play a real-world match on that day – and nominate a captain. There's also a mock budget you have to stick to. The general rule is that better players will cost more.
Now, should these selections of yours play well in the actual match, they'll win points for you as well.
The best example we can think for fantasy sports betting is Dream 11. Here, you build your own cricket team with players from any upcoming real-world match and compete with others for lucrative prizes, which range from regular cash winnings to big-ticket cash jackpots.
And Casino Games?
Again, the same old quandary for betting and gambling enthusiasts in the country. There is no legislation in India prohibiting users from participating in online casino games.
That said, going by the book, casino games can well be categorised as games of chance that require only a sprinkling of luck (and no skill whatsoever). So, technically, this is another grey area.
However, thanks to the utterly contradictory and confusing maze that is the gambling space in the country, the best online casino sites in India attract many avid customers, offering a raft of table games, slots, and live games like roulette, blackjack, poker, Teen Patti, and Andar Bahar.
Legal & Restricted Betting Sites in India
Many of our readers wonder whether big operators, such as Betway, bet365, William Hill and Betfair, are "legal" in India. Have a look below to see if your bookmaker of choice opens its doors to Indian players.
Is 1xBet Legal in India? Yes✔️
Is 10CRIC Legal in India? Yes✔️
Is bet365 Legal in India? Yes ✔️
Is Betfair Legal in India? No❌
Is Betfred Legal in India? No❌
Is BetVictor Legal in India? No❌
Is Betway Legal in India? Yes✔️
Is bwin Legal in India? No❌
Is Dafabet Legal in India? Yes ✔️
Is Fun88 Legal in India? Yes✔️
Is Ladbrokes Legal in India? No❌
Is Marathonbet Legal in India? Yes✔️
Is Paddy Power Legal in India? No❌
Is Parimatch Legal in India? Yes✔️
Is William Hill Legal in India? No❌
Is Unibet Legal in India? Yes✔️
Future of Online Betting in India
So – is online betting legal in India? The answer to this is, unfortunately, not as clear as we would like it to be at the moment. But it is not unreasonable to expect that things will be clarified moving forward. In the coming years, India's gambling legislation will hopefully be amended to provide a clearer idea of what's legal and what's not.
There are a few indications that the central government is keen on regulating online betting across the country. That said, there seems to be a lack of motivation for all the political legwork required for such a massive change.
The online gaming industry and associated experts have been prodding the government to establish a self-regulatory committee to standardise online betting-related regulations.
A large chunk of the population might still be conservative and unwelcoming of the idea of granting legitimacy to online gambling and betting. But Indian youth, who are clearly the future, are more open-minded. And if they continue supporting the cause of legalisation, then a regulated online betting framework might just be close at hand.
Is Online Betting Legal in India FAQs
Is online betting legal in India?
To cut a long story short, yes. Online betting is legal in India. No legislation prohibits Indian bettors from indulging in online betting. Sure, states have their own laws, and some may be a little more restrictive than the others.
But, in the larger scheme of things, online betting is legitimate, safe, and a prevalent activity across the country.
Which betting sites are legal in India?
Any betting site that is based outside the country is legal and can accept players from India. But that is the point – for any operator to be considered legit and safe, it will need to be run from outside India. That is why you won't come across an Indian betting site headquartered within the country.
This also happens to be why Indians prefer international operators like 10CRIC, Betway, and bet365.
Are winnings from online betting/gambling taxed?
Yes – earnings from online gambling are taxable under 'Income from Other Sources' at a flat 30% + 4% cess, which comes to 31.2%. Also, the minimum exemption limit of Rs 2.5 lakh doesn't apply to income from online gambling or betting.
How do I deposit money into my online betting account?
There are plenty of options allowing you to deposit funds in your online betting account. For instance, the best betting sites accept e-wallets such as Skrill and NETELLER. However, while these are recognised banking methods, they may not be the most convenient for Indian bettors and casino buffs.
Some of the safest and hassle-free deposit methods for players from India are Google Pay, Paytm, and PhonePe. You can also check out our article on the best betting payment methods in India to learn more.
Are online casino games legal in India?
Yes, they are. There is no law that bans it categorically. Having said that, a few states, of course, have their own regulations that label casino games as 'games of chance' and not of skill. Going by the textbook definition, 'games of chance' are banned, whereas 'games of skill' are allowed.
However, online casino games have only been increasing in popularity in the country. While the utterly confusing gambling laws make it a grey area, hundreds of thousands of Indians love online casino games and win prizes regularly.
Bet safely at 1xBet!
CricketBettingAdvice Final Say
India is a massive country with a population that's huge and diverse in equal measure. Some have a liberal worldview, while a few remain conservative. Therefore, we're often incredibly divided on online betting and whether it should – or will – be legal in India.
It isn't a shocker that many in the country enjoy betting and gambling on casino games. Sports like cricket and football are intrinsically woven into India's social fabric, and therefore, betting on the outcome of these sports has traditionally been a national recreation of sorts. Betting on cricket and horse racing, in particular, remains extremely popular.
Why the former's legitimacy hasn't been expressly stated anywhere is a hot topic for debate. But that's for another day.
Similarly, gambling on casino games and poker was at a point in time a pastime for the elite, but not anymore. Today, it has found takers in ordinary citizens as well.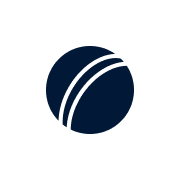 The Cricket Betting Advice team of writers are all defined by one goal: to provide you with the best online cricket betting content on the web.